NIOS PDPET Bridge Course Assignment Answer 521 to 524 Solved
Bridge Course Assignment Answer 521 to 524 in hindi, English and Gujarati. welcome to Nios PDPET Bridge Course Student – Teachers. You will know that HindiHelpguru gives NIOS best learning materials. After the success of DELED study materials, we are now going to give a Bridge Course Assignment answer here. From here you will find the solved answer of the assignment of all course code 521 to 524 of PDPeT. All assigned assignments are prepared by the team of the Gujaratiheluguuru. The best and unique answers and materials only get here. Here NIOS PDPET Bridge Course Assignment Answer is given in Answer 521 to 524 free and in pdf version.
Can download from here. Friends can share on Facebook – wahtsapp.
Apart from this, we are offering Bridge Course Assignment Answer With all the materials materials and formats here to the Bridge Course. We have given this information in the Bridge Course Syllabus article. This way, here you will be assisted in preparing for the NIOS PDPET Bridge exam. Bridge Course WBA ( workshop based Activity, SBA ( school Based Activity, PT and Assignment Cover Page Format Free Download.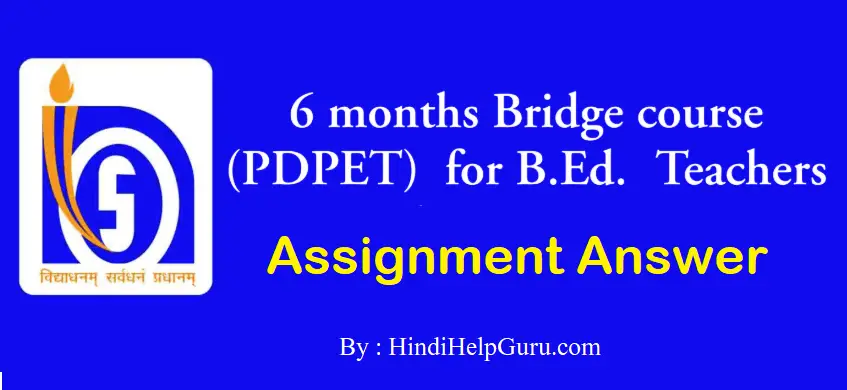 Bridge Course Assignment Answer
Here the Bridge Course Assignment Answer file will be uploaded everyday.
[table id=21 /]
Also Read : NIOS PDPET Useful Article And Updates
Any Question And Confusion ? Please Contact Me, Via This Link.
NIOS DELED की सभी जानकारी Files अपने Mail पर पाने के लिए यहाँ क्लिक करे और अपना email पता दर्ज करे. बाद में आपका Mail देखे.
हमारे नए TELEGRAM Group में add होने के लिए यहाँ क्लिक करे.
HindiHelpGuru Facebook Page पर कांटेक्ट करे.
Join_NIOS_PDPET_Social_Media">
Join NIOS PDPET Social Media
[su_button url="https://chat.whatsapp.com/DPerE0Oeo5CKigMwpmn2a1″  style="3d" background="#9b0510″ size="8″]Whatsapp Group[/su_button]      [su_button url="http://t.me/deled4nios" target="blank" style="3d" background="#9b0510″ size="8″]Telegram Group[/su_button]