Shitala Satam Varta In Gujarati PDF Free Download
In the rich tapestry of Hindu festivals, Shitala Satam Varta In Gujarati stands as a celebration of both tradition and well-being. This article delves into the fascinating world of Shitala Satam, exploring its origins, rituals, and the profound cultural significance it holds. Join us on a journey through this age-old festival that continues to thrive in modern times.
Here we are presenting for you Shitala Satam Vrat Katha (Shitala Satam ni Varta Gujarati) by following which you can get rid of many types of diseases. Sheetla Satam is celebrated with great enthusiasm as a very important festival in Gujarat. This festival is dedicated to Goddess Sheetla Mata. It is believed that Sheetla Devi protects her devotees and their families from incurable diseases like measles and smallpox.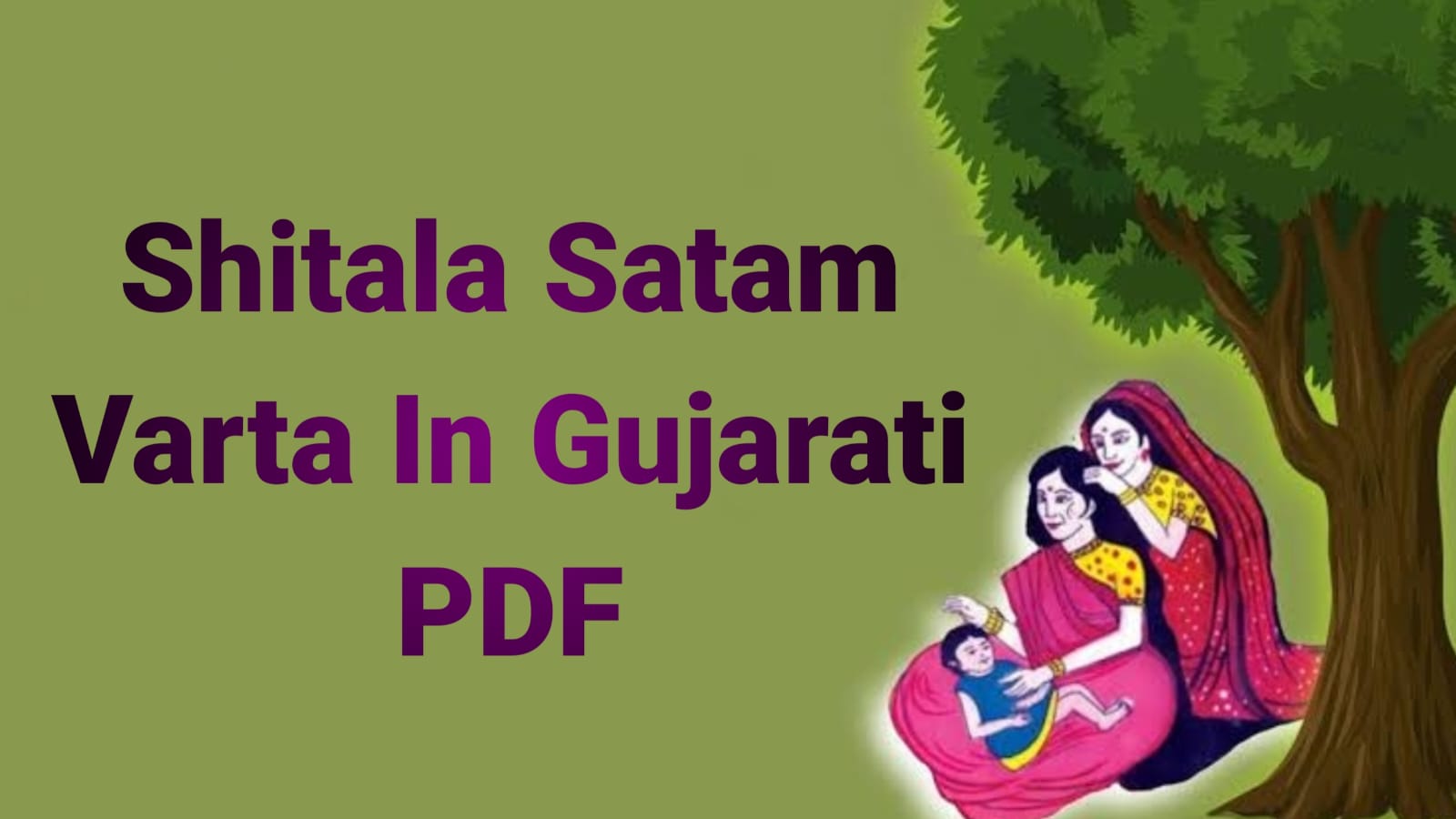 Hence, in Gujarat and other places, this Vrat is observed on different occasions in the year to seek the blessings of Goddess Shitala Mata. No food is cooked at home on this fast. The food eaten on the day of Shitla Satam should be cold and stale. That is why most Gujarati families prepare a special meal on the day before Sheetla Satam which is known as Randhan Chhath. Shitla Satam Vrat is celebrated in different ways in different parts of the country. For example, in North Indian states, this festival is celebrated just after Holi, known as Basoda.
The Origins of Shitala Satam
Shitala Satam, also known as Shitala Saptami, is a Hindu festival celebrated on the seventh day (Saptami) of the Krishna Paksha (waning phase of the moon) in the month of Shravana. It is dedicated to Goddess Shitala, the deity of coolness, purity, and healing. The word "Shitala" itself means "cool" in Sanskrit, signifying the essence of this festival.
Story of Shitala Satam Vrat Katha
A family lived in a village. On the sixth day of the month of Shravan, the brides-in-law of the family cooked. But Derani and Jethani slept with the stove burning. It was night time and mother Shitala went out for a walk, she came to Derani's house and got burnt all over while going to the stove. So mother Shitala cursed him saying "Let your stomach burn as you burn me." Knowing this, Derani started to imagine.
Someone said that Nickey is the mother's copy of smallpox. Hearing this, she started wandering with the burnt child in the basket. He saw old Doshi under a board in the forest, Doshi called him. He cleared his head as Doshi said. By serving Doshi in this way, Doshi said, "May you be cooled as you cooled me." Saying that, touching his son, he came back to life. Shitla Mata gave him darshan and sent him home. Thus mother Shitala pleased him. He grew wealth at home and got healthy children.
Shri Shitala Mata Aarti
Jai Shitala Mata,Maiya Jai Shitala Mata।
Adi Jyoti MaharaniSaba Phala Ki Data॥
Om Jai Shitala Mata…।
Ratana Simhasana Shobhita,Shweta Chhatra Bhata।
Riddhi-Siddhi Chanwara Dolaven,Jagamaga Chhavi Chhata॥
Om Jai Shitala Mata…।
Vishnu Sevata Thadhen,Seven Shiva Dhata।
Veda Purana VaranataPara Nahin Pata॥
Om Jai Shitala Mata…।
Indra Mridanga BajawataChandra Vina Hatha।
Suraja Tala BajavaiNarada Muni Gata॥
Om Jai Shitala Mata…।
Ghanta Shankha ShahanaiBajai Mana Bhata।
Karai Bhakta Jana AartiLakhi Lakhi Harshata॥
Om Jai Shitala Mata…।
Brahma Rupa VaradaniTuhi Tina Kala Gyata।
Bkaktana Ko Sukha DetiMatu Pita Bhrata॥
Om Jai Shitala Mata…।
Jo Jana Dhyana LagavePrema Shakti Pata।
Sakala Manoratha PaveBhavanidhi Tara Jata॥
Om Jai Shitala Mata…।
Rogon Se Jo Pidita KoiSharana Teri Ata।
Kodhi Pave Nirmala KayaAndha Netra Pata॥
Om Jai Shitala Mata…।
Banjha Putra Ko PaveDaridra Kata Jata।
Tako Bhajai Jo NahinSira Dhuni Pachhatata॥
Om Jai Shitala Mata…।
Shitala Karati Jana KiTu Hi Hai Jaga Trata।
Utpatti Bala BinashanaTu Saba Ki Mata॥
Om Jai Shitala Mata…।
Dasa NarayanaKara Jori Mata।
Bhakti Apani DijaiAura Na Kuchha Mata॥
Om Jai Shitala Mata…।
Rituals and Traditions
1. Pious Bathing
The day begins with devotees taking a holy bath in the river or a sacred water body. This ritual symbolizes the purification of the body and soul, seeking the blessings of Goddess Shitala.
2. Offerings to the Goddess
Devotees prepare a special offering known as 'Naivedya,' which typically consists of fruits, sweets, and traditional dishes. This offering is made to the Goddess as a mark of devotion and gratitude.
3. Protection from Disease
One of the central themes of Shitala Satam is the belief that worshipping Goddess Shitala can protect individuals, especially children, from various diseases and illnesses. Devotees pray for good health and well-being.
How To Do Shitala Satam Puja?
The hearth is not lit on the Satam day, so the next day of the Satam i.e. the sixth day is made with two days of cooking.
At this time there is no rule about cooking a dish, a housewife can make it to stay good (healthy) for two days.
On the seventh (7) day of Shravan, get up early in the morning and take a bath with cold water. Fasting throughout the day. Do not light the stove and listen to the story of the cold.
Cooler (wheat flour + dhee + jaggery) is made to offer Prasadi to Shitla Mata.
Visit the temple of Shitla Mata and worship with a cooler, a lamp, a coconut.
In Gujarat's Saurashtra, a village fair is held on this day.
How to worship Mother Smallpox:
On the seventh day, make curd, rotli, pua, millet, namak pare, mathari and sweet rice in a plate. Spread the flour in another plate. Keep the roli, clothes intact, coin and henna and lota filled with cold water. After worshiping Shitla Mata in the house temple, keep the lamp unlit and offer the bhog kept in the plate.
What does a cold mother like?
One day before Shitla Saptami, prepare sweet rice (olia), khaja, churma, magad, namak pare, sugar pare, besan mill, puya, dumplings, rabdi, bajri roti, puri, vegetables etc. … On this day i.e. one day before Saptami, after preparing all the food in the night of the sixth day, clean the kitchen and worship it. Worship by offering roli, mouli, flowers, clothes etc.
What to offer to smallpox mother?
Curd, rabari, sweet rice and pua are offered to Mata Sheetla on this day. All these things are prepared and kept on Saptami night. In such a situation, today we are going to tell you the reason behind why it is a tradition to give stale food on this day.
Also Read This : Lord Krishna Story
What do you make on Shitala Saptami?
On this day soft things are offered to Mata Sheetla during puja. In which the mother is pleased by giving sweet rice, unsalted puri, malpua or poo, dal kheer, sweet dumplings, pakoras, curry, gram dal, kheer, rice, rawdi etc.
The Legend of Shitala Mata
The legend behind Shitala Satam Varta In Gujarati traces back to the time when Goddess Shitala emerged from the coolness of the earth to cure a deadly disease that had plagued a kingdom. She is often depicted riding a donkey, holding a broom, a winnowing fan, and a pot of cool water, which symbolize her healing powers and her ability to sweep away diseases.
Modern Celebrations
In contemporary times, Shitala Satam is observed with great enthusiasm in various parts of India, particularly in the northern states of Uttar Pradesh, Bihar, and West Bengal. Devotees create beautiful rangolis (traditional art patterns) outside their homes and temples, and women often fast on this day, breaking it only after offering prayers to the Goddess.
Embracing Tradition and Wellness
Shitala Satam Varta is not just a religious festival but also a celebration of well-being. It encourages people to prioritize their health and seek protection from illnesses. This harmonious blend of tradition and wellness reflects the profound cultural diversity and depth of Hindu festivals.
FAQs
1. What is the significance of taking a holy bath on Shitala Satam?
Taking a holy bath on Shitala Satam symbolizes the purification of the body and soul, seeking the blessings of Goddess Shitala for good health and well-being.
2. Why is Goddess Shitala associated with coolness and healing?
Goddess Shitala is associated with coolness and healing due to her ability to cure diseases and protect individuals from illnesses, as per Hindu mythology.
3. How do modern celebrations of Shitala Satam differ from traditional ones?
Modern celebrations often include rangoli decorations and fasting, which may not have been as prevalent in traditional celebrations.
Shitala Satam Varta In Gujarati PDF Free Download
Click Here To Download PDF For Free