Delhi Metro Map PDF Free Download
The Delhi Metro Map is a visual representation of the extensive and efficient rapid transit system that serves the National Capital Region of India. It showcases the various color-coded lines that crisscross the city, connecting different parts of Delhi and neighboring areas. The metro map serves as a valuable navigation tool for both regular commuters and tourists.
As of the last update in September 2021, the Delhi Metro Map consists of several lines, each assigned a different color for easy identification. Some of the key lines include the Red Line, Yellow Line, Blue Line, Green Line, Violet Line, Pink Line, Magenta Line, and the Airport Express Line.
The Red Line runs from Dilshad Garden to Rithala, covering significant areas in East Delhi. The Yellow Line connects Samaypur Badli in North Delhi to HUDA City Centre in Gurugram, serving as one of the busiest lines. The Blue Line stretches from Dwarka Sector 21 to Noida Electronic City/Vaishali, providing vital connectivity between Delhi and Noida.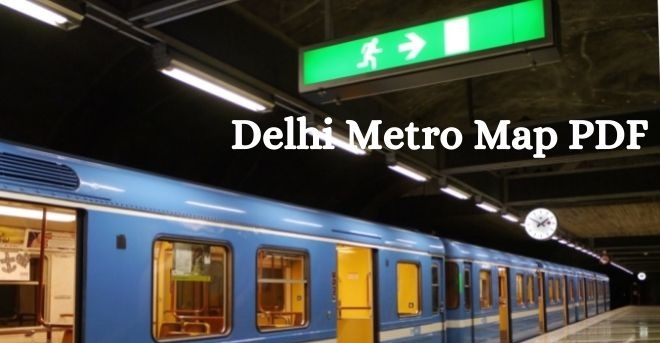 The Green Line, Violet Line, Pink Line, and Magenta Line serve various other parts of the city, completing the comprehensive network. The Airport Express Line offers a fast link between New Delhi Railway Station and Dwarka Sector 21, catering to travelers arriving at the Indira Gandhi International Airport.
Overall, the Delhi Metro Map represents a highly efficient and reliable transportation system that continues to expand, making travel within the city more convenient and environmentally friendly.
Introduction
The Delhi Metro, a lifeline for millions of residents in India's capital city, has revolutionized the way people travel within the bustling metropolis. With its extensive network, efficient operations, and affordable fares, the Delhi Metro has become an integral part of daily life for Delhiites. In this comprehensive article, we will explore the Delhi Metro Map, fare system, different metro lines, the DMRC Smart Mobile Phone Application, interesting facts, review, and address some frequently asked questions.
Delhi Metro Map Overview
The Delhi Metro network is a marvel of modern engineering, connecting various parts of Delhi and its neighboring areas with unmatched efficiency. The network is continuously expanding, reaching new corners of the city and easing the burden of traffic congestion on the roads.
The current Delhi Metro Map boasts several color-coded lines, each representing a different route. Some of the prominent lines include:
Red Line (Line 1): Dilshad Garden to Rithala
Yellow Line (Line 2): Samaypur Badli to HUDA City Centre
Blue Line (Line 3/4): Dwarka Sector 21 to Noida Electronic City/Vaishali
Green Line (Line 5): Inderlok/Kirti Nagar to Brigadier Hoshiyar Singh
Violet Line (Line 6): Kashmere Gate to Raja Nahar Singh (Ballabhgarh)
Pink Line (Line 7): Majlis Park to Shiv Vihar
Magenta Line (Line 8): Botanical Garden to Janakpuri West
Airport Express Line: New Delhi to Dwarka Sector 21
Delhi Metro Fare System
The Delhi Metro Fare system is designed to be affordable and user-friendly, making it accessible to people from all walks of life. The fare is calculated based on the distance traveled, and the system uses smart cards for a seamless experience. Commuters can recharge these cards at stations or online, ensuring a hassle-free journey.
The fares are divided into different slabs, with a minimum fare for short distances and incremental increases for longer journeys. The smart card system offers discounted fares compared to purchasing tickets for single journeys. Additionally, there are separate fare structures for regular and airport express lines.
Delhi Metro Lines and Extensions
Over the years, the Delhi Metro has witnessed significant expansions, with new lines and extensions enhancing its reach and connectivity. The Metro authorities, Delhi Metro Rail Corporation (DMRC), have consistently worked on adding new lines and expanding existing ones to cover more areas.
Also Read This : Schufa Auskunft Kostenlos PDF
DMRC has also focused on improving interconnectivity between different lines, allowing passengers to change lines seamlessly at interchange stations. This approach has not only reduced travel time but also made the Delhi Metro a preferred mode of transportation for daily commuters.
DMRC Smart Mobile Phone Application
To further enhance the passenger experience and keep pace with technological advancements, the DMRC introduced its Smart Mobile Phone Application. This app serves as a one-stop solution for all things Delhi Metro-related.
Key features of the DMRC Smart Mobile Phone Application include:
Real-time train tracking: Commuters can check the exact location of trains, reducing waiting time on platforms.
Fare calculator: Users can calculate the fare for their journey based on the starting and ending stations.
Station and route information: The app provides detailed information about stations, interchange points, and the shortest route between two stations.
Recharge facility: Users can recharge their smart cards directly from the app, avoiding long queues at stations.
Service updates: The app keeps users informed about any disruptions, maintenance work, or changes in the metro schedule.
Tourist guide: The app offers information about nearby attractions, helping tourists navigate the city more easily.
Interesting Facts about Delhi Metro
Environment-friendly: The Delhi Metro is hailed for its eco-friendly approach. Regenerative braking technology helps recover energy during braking, reducing overall energy consumption.
Women-friendly: The Metro reserves a coach for women, ensuring their safety and comfort during travel.
Energy-efficient: Solar panels are used to power certain stations, contributing to the reduction of carbon emissions.
Record construction: The Delhi Metro construction was completed in record time, showcasing India's capabilities in executing large-scale infrastructure projects.
Summary
The Delhi Metro has played a crucial role in easing traffic congestion, reducing pollution, and improving public transportation in the city. Its extensive network, affordable fares, and user-friendly facilities make it a preferred choice for daily commuters and tourists alike. With constant expansions and technological advancements like the DMRC Smart Mobile Phone Application, the Delhi Metro continues to evolve, making urban commuting more convenient and efficient.
Quotes
"The Delhi Metro is a shining example of India's progress and commitment to modern infrastructure." – Prime Minister of India
"I rely on the Delhi Metro every day for my commute. It's fast, comfortable, and saves me a lot of time." – Regular Delhi Metro Commuter
"The Delhi Metro has transformed the way we travel in the city. It's a game-changer!" – Urban Planning Expert
Review
The Delhi Metro receives widespread praise for its well-maintained stations, cleanliness, safety measures, and efficient operations. Commuters appreciate the on-time performance and the overall comfort of their journeys. However, some passengers report occasional issues with overcrowding during peak hours.
FAQs
Is the Delhi Metro operational 24/7? The Delhi Metro operates from around 5:00 AM to 11:00 PM daily, with slight variations on different lines.
How can I recharge my Delhi Metro Smart Card? Smart Cards can be recharged at metro stations using ticket vending machines or through the DMRC Smart Mobile Phone Application.
Does the Delhi Metro provide wheelchair accessibility? Yes, many stations are equipped with facilities for wheelchair accessibility, including ramps and elevators.
Are there any special discounts for students? Yes, the Delhi Metro offers discounted fares for students carrying a valid identity card from their educational institution.
Which is the longest line on the Delhi Metro network? The Pink Line (Line 7) is currently the longest line on the Delhi Metro network, connecting Majlis Park to Shiv Vihar.
Conclusion
The Delhi Metro has undoubtedly transformed the way people travel within the city. With its extensive network, affordable fares, and top-notch facilities, it has become a symbol of India's progress in modern infrastructure. As the city continues to grow, the Delhi Metro will undoubtedly play a crucial role in shaping the future of urban commuting in Delhi.
Delhi Metro Map PDF Free Download