GSEB TAT Exam Study Material Book Pdf – Syllabus
We have tried to give this article the latest – new TAT Exam Study Material Book PDF. There are many topics – Subject to be read for the TAT exam. Here we are giving the Most Important Selected Question Answer.
The study material given here will also be useful for competitive examinations other than TET 1, Tet 2, HTAT. From here you can book all topics for the TAT Exam PDF, Old Exam Solved Question Paper Solution, MCQS Type Question Bank, Model Question Paper, Gujarati Language Book, Syllabus Details for Tat Exam 2019 Details, Exam Date, Answer Key, TAT Exam Admit Card, Hall Ticket Updates News from here. TAT Exam Study Materials has been compiled by All Book and File HindiHelpGuru.com.
Examination of "TAT – Teacher aptitude test ) is organized by the Education Department in the state of Gujarat. This "TAT exam" is considered compulsory to be a teacher in secondary school. "TAT 1 – TAT 2" is organized for secondary and higher secondary school. Teacher aptitude test is organized by the State Examination Board.
Read / Check Also :
TAT Exam structure Information
This test can be used for multiplex form and multiple Choice Question Based-MCQs) will be based on OMR.
These tests will be in two sections.
Section -1 will have 100 questions. All questions will be of 01 marks.
Section-2 (A) will have 50 questions. Out of which 30 questions will be of 2 marks and 20 questions will be of 01 marks.
Section-2 (B) will have 20 questions. All questions will be of 01 marks.
These tests will have a total of 170 questions and a total score of 200, and the length of the question paper will be 180 minutes.
Both the sections of this test and all the questions will be compulsory.
The same section of the two sections of this test will be the only question paper.
There are four options given in the answer to each question, it will have to choose the correct option.
There will be no negative evaluation in this test evaluation.
Section-1 and Section-2 (B) will remain in the medium selected by the candidate.
The relevant subject of Section-2 (A) will be in the standard-9 of the State of Gujarat and the standard-10 courses in the academic year: 2017-18-19.
TAT Exam Study Material
TAT Syllabus pdf download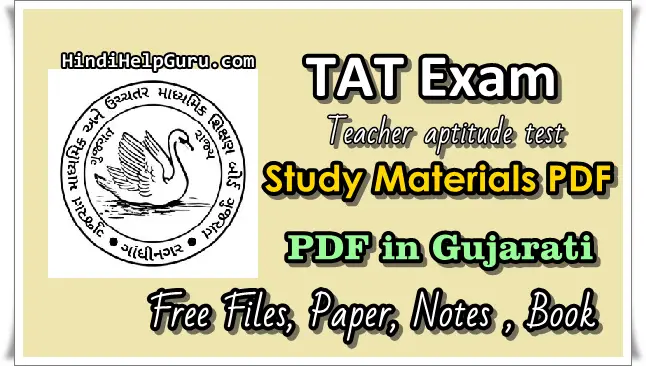 TAT Exam Subject
TAT (Secondary) under Science & Technology / Mathematics, Social Science, Gujarati, Hindi, English, Sanskrit, Marathi, Urdu, Sindhi, Tamil, Telugu, Oriya, Farsi, Arabi, Computer, Art, Music, Yoga Health and Physical Education Topics will be a TAT Exam.
Syllabus is almost identical for TAT-1 and TAT – 2. So we have not shown it again. Here is a syllabus based " TAT Exam Study Material ".
Section-1 General Studies (100 Questions) (100 marks)
(A) General Knowledge (15 questions) (15 marks)
The fundamental Duties-Article-51 (A), Gujrati literature, politics and governance (state and country) trends and structure, science and technology, sports and Games, great deities (country), music and art, history of india, Geography of current, current trends
(B) Teacher Enhancement (50 questions) (80 marks)
(I) Philosophy of education (10 questions) (10 marks)
Education Objectives (Social, Individual, Special), forms of education (formal, informal, non-human, persistent, inconsequential), ideology of education (idealism, naturalism, profession) (II) Educational Psychology (20 Questions) (20 marks)
(II) Educational Psychology (20 Questions) (20 marks)

Growth and Development, Stress, Educational Psychology Methods, Mental Variations, Learning, Intelligence, Rescue Practices, Inspiration, Exclusive Children, Personality, Interest, Personality, Prosperity.
(Iii) Disorder and evaluation (10 questions) (10 marks)
Classmates, evaluations (including Bloom) and statistics, education and technology, interactive research.
(C) Logical Prosperity (15 questions) (15 marks)
(D) Gujarati language proficiency
(writing, reading, listening skills) (15 questions) (15 marks) : Grammar (spelling, anti, synonymous, one word for phrase, break chihay, | synonyms etc.), abbreviated writing, good news, dawn and improvement, title, summary.
(E) English language information (STD up to 12) (15 questions) (15 marks)
Common grammar, translation, spelling, correction, word formation, picture-based questions.
Section-2 Special Subject Exam (100 Questions) (100 Marks)
(A) Contents (80 questions) (80 Marks)
Course textbook of Gujarat State of Standard-9 and Standard-10 of the subject concerned.
(B) Content-based questions questions (20 questions) (20 marks)
Medium of TAT Examination:

This test will be held in three mediums of Gujarati, English and Hindi. Candidates who have passed the first language (HL) of these three languages in standard 12 will have to give a test in the medium. Candidates who have passed the first language (H.L.), other than these three in the standard 12, can be given consolidation in any medium. The three medium test papers (questions) will be different. Check All TAT Exam Study Material in This Article By HindiHelpGuru.com.
TAT Exam Study Material
You can download the "TAT Exam Study Material" given here. Daily updates to new materials will also be done.
[table id=25 /]