Jai Dev Jai Dev Lyrics PDF Free Download
Jai Dev Jai Dev Lyrics PDF Free Download, also known as Ganesh Chaturthi, is one of the most beloved and widely celebrated festivals in India. This vibrant and spiritually significant event honors Lord Ganesha, the elephant-headed deity of wisdom, prosperity, and new beginnings. In this article, we will explore the cultural and religious significance of Ganpati, the rituals associated with the festival, the joyous celebrations, and its impact on communities.
Ganpati, celebrated with fervor and enthusiasm, holds a special place in the hearts of millions of Hindus across the world. Lord Ganesha is revered as the remover of obstacles and the symbol of intellect, wisdom, and good fortune. His presence is invoked at the beginning of any auspicious endeavor, making him a cherished deity in Hinduism.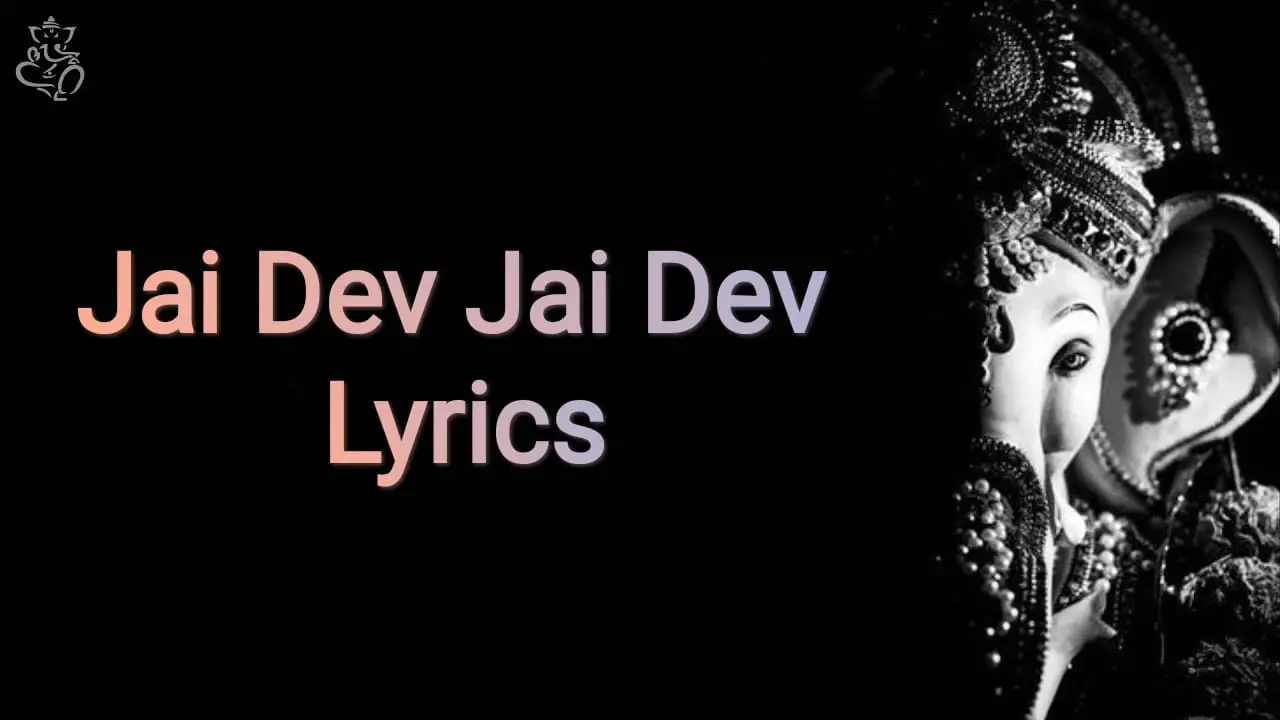 The festival also symbolizes the spirit of unity and inclusivity. Regardless of caste, creed, or social status, people from all walks of life come together to worship Lord Ganesha, fostering a sense of community and togetherness.
Jai Dev Jai Dev Lyrics PDF
Sukh Karta Dukh harta Varta Vighnachi |
Noorvi Poorvi Prem Krupya Jayachi ||

Sarwangi Sundar Utishendu Rachi |
Kanthi Jhalke Maad Mukhta Padhanchi ||

Jai Dev Jai Dev

Jai Dev Jai Dev Jai Mangal Murti
Darshan Marte Maan Kamana Purti … Jai Dev Jai Dev

Jai Dev Jai Dev Jai Mangal Murti
Darshan Marte Maan Kamana Purti… Jai Dev Jai Dev
Ratnakhachit Phara Tujh Gaurikumra |
Chandanaachi Uti Kumkum Ke Shara ||

Hire Jadit Mukut Shobhato Bara |
Runjhunati Nupure Charani Ghagriya ||

Jai Dev Jai Dev

Jai Dev Jai Dev Jai Mangal Murti
Darshan Marte Maan Kamana Purti.. Jai Dev Jai Dev

Jai Dev Jai Dev Jai Mangal Murti
Darshan Marte Maan Kamana Purti.. Jai Dev Jai Dev

Lambodar Pitaambar Phanivar Vandana |
Saral Sond Vakratunda Trinayana ||

Das Ramacha Vat Pahe Sadna |
Sankati Pavave Nirvani Rakshave Survar Vandana ||

Jai Dev Jai Dev

Jai Dev Jai Dev Jai Mangal Murti
Darshan Marte Maan Kamana Purti.. Jai Dev Jai Dev

Jai Dev Jai Dev Jai Mangal Murti
Darshan Marte Maan Kamana Purti.. Jai Dev Jai Dev

Shendur Laal Chadhayo Acchha Gajamukhako |
Dondil Laal Biraje Sut Gauriharko ||

Hath Liye Gud-laddu Sain Suravarako |
Mahima Kahe Na Jaay Lagat Hoon Padako ||

Jai Dev Jai Dev

Jai Jai Shri Ganaraj Vidya Sukhadata
Dhany Tumhara Darshan Mera Man Ramata.. Jai Dev Jai Dev

Jai Jai Shri Ganaraj Vidya Sukhadata
Dhany Tumhara Darshan Mera Man Ramata.. Jai Dev Jai Dev

Ashtau Siddhi Dasi Sankatako Bairi |
Vighna-vinashan Mangal Murat Adhikari ||

Kotisurajaprakash Aisee Chhabi Teri |
Gandasthal madamastak Jhoole Shashibihari ||

Jai Dev Jai Dev

Jai Jai Shri Ganaraj Vidya Sukhadata
Dhany Tumhara Darshan Mera Man Ramata.. Jai Dev Jai Dev

Jai Jai Shri Ganaraj Vidya Sukhadata
Dhany Tumhara Darshan Mera Man Ramata.. Jai Dev Jai Dev

Bhav-bhagat Se Koi Sharanagat Aave |
Santat Sampat Sabahi Bharapoor Pave ||

Aise Tum Maharaj Moko Ati Bhave |
Gosavinandan Nishidin Gun Gave ||

Jai Dev Jai Dev

Jai Jai Shri Ganaraj Vidya Sukhadata
Dhany Tumhara Darshan Mera Man Ramata.. Jai Dev Jai Dev

Jai Jai Shri Ganaraj Vidya Sukhadata
Dhany Tumhara Darshan Mera Man Ramata.. Jai Dev Jai Dev

Jai Dev Jai Dev Jai Mangal Murti
Darshan Marte Maan Kamana Purti.. Jai Dev Jai Dev

Jai Dev Jai Dev Jai Mangal Murti
Darshan Marte Maan Kamana Purti.. Jai Dev Jai Dev
Also Read This : Ganesh Chaturthi WhatsApp Status Video Download
Jai Dev Jai Dev Lyrics In Hindi PDF
सुख करता दुखहर्ता, वार्ता विघ्नाची
नूर्वी पूर्वी प्रेम कृपा जयाची
सर्वांगी सुन्दर उटी शेंदु राची
कंठी झलके माल मुकताफळांची

जय देव जय देव, जय मंगल मूर्ति
दर्शनमात्रे मनःकामना पूर्ति
जय देव जय देव

रत्नखचित फरा तुझ गौरीकुमरा
चंदनाची उटी कुमकुम केशरा
हीरे जडित मुकुट शोभतो बरा
रुन्झुनती नूपुरे चरनी घागरिया

जय देव जय देव, जय मंगल मूर्ति
दर्शनमात्रे मनःकामना पूर्ति
जय देव जय देव

लम्बोदर पीताम्बर फनिवर वंदना
सरल सोंड वक्रतुंडा त्रिनयना
दास रामाचा वाट पाहे सदना
संकटी पावावे निर्वाणी रक्षावे सुरवर वंदना

जय देव जय देव, जय मंगल मूर्ति
दर्शनमात्रे मनःकामना पूर्ति
जय देव जय देव

शेंदुर लाल चढायो अच्छा गजमुख को
दोन्दिल लाल बिराजे सूत गौरिहर को
हाथ लिए गुड लड्डू साई सुरवर को
महिमा कहे ना जाय लागत हूँ पद को

जय जय जय जय जय
जय जय जी गणराज विद्यासुखदाता
धन्य तुम्हारो दर्शन मेरा मत रमता
जय देव जय देव

अष्ट सिधि दासी संकट को बैरी
विघन विनाशन मंगल मूरत अधिकारी
कोटि सूरज प्रकाश ऐसे छबी तेरी
गंडस्थल मद्मस्तक झूल शशि बहरी

जय जय जय जय जय
जय जय जी गणराज विद्यासुखदाता
धन्य तुम्हारो दर्शन मेरा मत रमता
जय देव जय देव

भावभगत से कोई शरणागत आवे
संतति संपत्ति सबही भरपूर पावे
ऐसे तुम महाराज मोको अति भावे
गोसावीनंदन निशिदिन गुण गावे

जय जय जी गणराज विद्यासुखदाता
धन्य तुम्हारो दर्शन मेरा मत रमता
जय देव जय देव
Click Here To Download PDF For Free