Laxmi Bhandar Form PDF Free Download
In today's fast-paced world, financial stability is a cornerstone for individuals and families alike. In India, several government initiatives aim to empower citizens economically, and one such initiative is the Laxmi Bhandar Form. This article will explore the intricacies of this form, shedding light on its significance, eligibility criteria, application process, and more.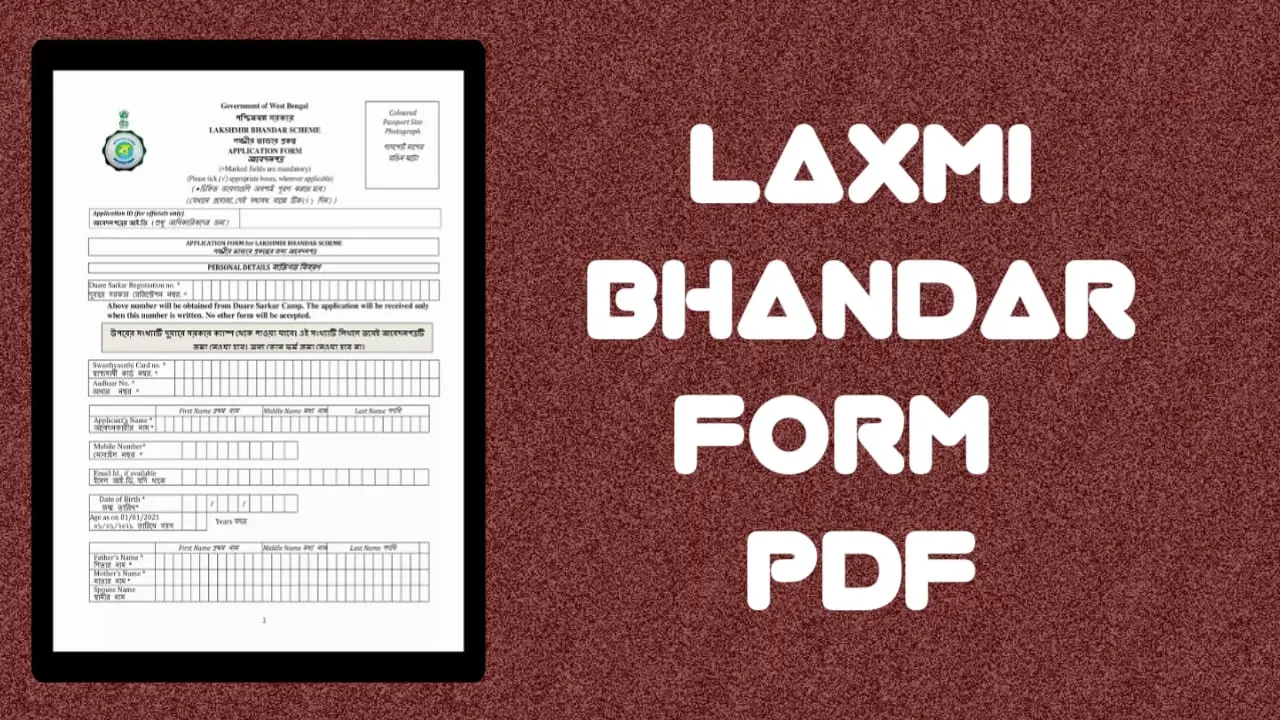 Laxmi Bhandar Form – Overview
| | |
| --- | --- |
| Name of Scheme | Lakshmi Bhandar Form PDF or Laxmi Treasure Form or Lakshmir Bhandar Form PDF |
| State | West Bengal |
| Who are Eligible Beneficiaries | Female heads of households |
| Beneficiaries Count | 1.6 crore |
| Type of Scheme | Basic / Minimum Monthly Income Scheme for Women |
| Assistance for General Category Families | Rs. 500 per month or Rs. 6000 per year |
| Assistance for SC / ST Category Families | Rs. 1000 per month or Rs. 12000 per year |
| Registration / Apply Process | To start soon |
| Budget Outlay | Rs. 12,900 crore |
What is the Laxmi Bhandar Form?
The Laxmi Bhandar Form, often referred to as the Laxmi Bhandar Scheme, is a government program initiated by the West Bengal government. It is designed to provide financial assistance to women in the state. This scheme has gained immense popularity due to its noble objectives and comprehensive coverage.
Eligibility Criteria
All women age between 25 to 65 years old is eligible to get the benefit of the scheme.
Scheduled caste and Scheduled Tribes families will receive rupees 1000 per month under the scheme.
Casual worker in the states is eligible to get benefits from the scheme.
The government of West Bengal announced a scheme for women.
The applicant who belongs to West Bengal states is eligible to get the benefit of the scheme.
Important Documents
Aadhar Card
Caste Certificate
Ration Card
Residential Certificate
Age Proof
Bank Account Detail
Passport Size Photographs
Email ID
Mobile Number
Benefits of the Laxmi Bhandar Scheme
The Laxmi Bhandar Scheme offers several benefits to eligible recipients:
1. Financial Security
For women in West Bengal, this scheme provides a safety net, ensuring financial security during challenging times.
2. Empowerment
By supporting women economically, the scheme empowers them to become self-reliant and financially independent.
3. Education
The scheme often includes provisions for the education of girl children, contributing to their overall development.
Also Read This : I Huaji Albert Kamy
Application Process
Now that we have a clear understanding of the eligibility criteria, let's delve into the application process:
Step 1: Obtain the Application Form
The first step is to obtain the Laxmi Bhandar Scheme application form. This form can usually be downloaded from the official government website or obtained from local government offices.
Step 2: Fill in the Details
Carefully fill in all the required details in the application form. Ensure that the information provided is accurate and up to date. Any discrepancies may lead to the rejection of your application.
Step 3: Attach Necessary Documents
Support your application with the necessary documents, including proof of residence, age, and income. Make sure all documents are attested and valid.
Step 4: Submit the Application
Submit the completed application form along with the supporting documents to the designated authorities. Ensure that you keep a copy of the application receipt for future reference.
Step 5: Verification
After the submission of your application, it undergoes a verification process to confirm your eligibility. This may involve a visit by government officials to your residence.
Step 6: Approval and Disbursement
Once your application is approved, you will receive financial assistance as per the scheme's guidelines. This financial aid can be a significant boost to your economic well-being.
Conclusion
The Laxmi Bhandar Scheme is a commendable initiative by the West Bengal government to uplift women from economically disadvantaged backgrounds. It not only provides financial assistance but also empowers women to take charge of their financial futures. By understanding the eligibility criteria and the application process, individuals can take full advantage of this scheme and improve their quality of life.
FAQs (Frequently Asked Questions)
Que : Is the Laxmi Bhandar Scheme only for women?
Ans : Yes, the scheme primarily targets women residents of West Bengal.
Que : How often can one apply for the Laxmi Bhandar Scheme?
Ans : The frequency of application may vary, but it is typically a one-time benefit per eligible individual.
Que : Can I apply for the scheme if I live outside West Bengal?
Ans : No, the Laxmi Bhandar Scheme is specifically for residents of West Bengal.
Que : What kind of financial assistance does the scheme provide?
Ans : The scheme provides financial assistance in the form of direct cash transfers to eligible recipients.
Que : Is there an age limit for applicants?
Ans : Yes, applicants must fall within a specified age group, typically between 18 and 60 years.
Click Here To Download Laxmi Bhandar Form